American Casual Living of Suwanee, Georgia was one of two stores that took top honors in the Apollo Awards, presented by the International Casual Furnishings Association (ICFA) at a gala awards celebration on July 20 during Casual Market Chicago.
For American Casual Living's president, Lee Recchia, winning the award was a thrill for himself and his team.
"There are many truly talented, creative, and industrious retailers in our industry — among them of course our fellow nominees," says Recchia. "To be nominated in itself is reason for celebration, and then to receive the Apollo Award is truly exciting stuff for our small company. This award speaks not only to our success as a retailer but also to that of every other equally deserving, single-store warrior in our industry."
American Casual Living is a family-centered business, led by Lee, wife Maureen and daughter Lauren. The store operates from a 25,000-square-foot showroom near the Mall of Georgia and has become a one-stop shop for all things outdoors.
Recchia says its size enables it to offer consumers a broader variety of in-stock merchandise than most casual furniture retailers, and it builds on its extensive custom order resources and expertise. Lately, the store has been out in front of a continuing retail trend toward outdoor rooms, especially outdoor kitchens.
Recchia says that to him, the award is a reflection of two factors: effort and persistence.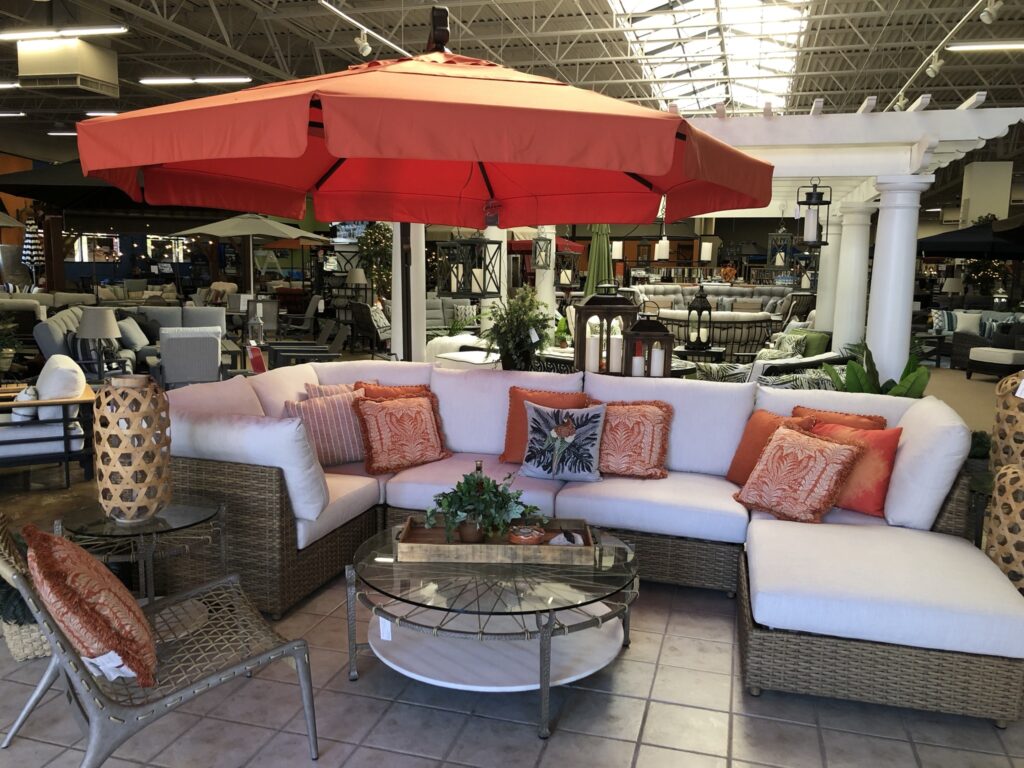 "At our level, success is not always born of spreadsheets, whitepapers and focus groups," Recchia says. "Instead, it is often stained with the blood, sweat and tears of trial and error. It means that along the way, we have made some good decisions, some not so good, but mostly that luck put helping winds in our sails."
Shortly after the award was handed down, the American Casual Living team celebrated with industry friends at Harry Caray's and is planning a celebration next week for those who have made the store a success: the employees.
"I don't think we do anything that is innovative or groundbreaking," Recchia explains. "From day one, our ethos has been to 'be' the customer. I believe we do a good job of aligning our 'sales' comportment with our personal expectations as consumers. Simply put, with all things being equal, people buy from people they like, believe and trust.
At Casual Market this summer, Recchia focused on filling the gaps and looking for new items and new vendors, as much of his product mix commitment for next year is already in place.
"Given the unusual set of conditions and circumstances encountered over the last couple of years, it has not been business as usual from a purchasing perspective," Recchia says. "Initially, we encountered challenged supply in the face of robust demand, followed conversely by plenty of inventory but softening demand. We have the inventory we need to carry us into 2023. We will digest what we have before embarking on replenishment strategies."
And the future?
"Typically, recessions occur following shocks in the economy and the global pandemic delivered a significant blow," Recchia says. "But, as the impact of Covid wanes, and absent unforeseen headwinds, our street level perspective based on current experience suggests a steady return to pre-Covid 'normalcy'."