Elegant Outdoor Living of Bonita Springs, Florida, was one of two stores that took top honors in the Apollo Awards, presented by the International Casual Furnishings Association (ICFA) at a gala awards celebration on July 20 during Casual Market Chicago.
For Stephanie Stegman, merchandise manager and buyer for Elegant Outdoor Living, the award means a lot, especially since the store has been nominated 11 times in the past. It means even more because the store's founders, Tom and Debbie Stegman, were involved in the founding of the ICFA.
"This award is personal and a huge win for our family business," Stegman says. "Being recognized as the country's No. 1 multi-store outdoor furniture retailer is an incredible feeling, and it is a testament to the hard work and dedication of the Elegant Outdoor Living family, all of our employees are part of the EOL family. We are proud to bring stylish, high-quality outdoor furniture and accessories to our customers at affordable prices, and we will continue to do our best to provide them with the best possible shopping experience."
Moving down South
Elegant Outdoor Living has an interesting history. Now in Bonita Springs, Naples and Sarasota, Florida, the store had an earlier life, in a way, as a chain of outdoor furnishings stores called the Patio & Hearth Shoppe in Ohio and Indiana.
After 30 years in the business, Tom and Debbie Stegman fell in love with Southwest Florida and decided to plan to retire there, for the blue skies, the warm sunshine and the fact that tee times are almost never canceled on account of snow.
They missed work, so they decided to do it all over again. After some gentle arm-twisting, their son Nate, who was general manager of the Patio & Hearth Shoppes, and his wife Stephanie, who was a buyer at Frontgate, agreed to join them in opening Elegant Outdoor Living in 2010.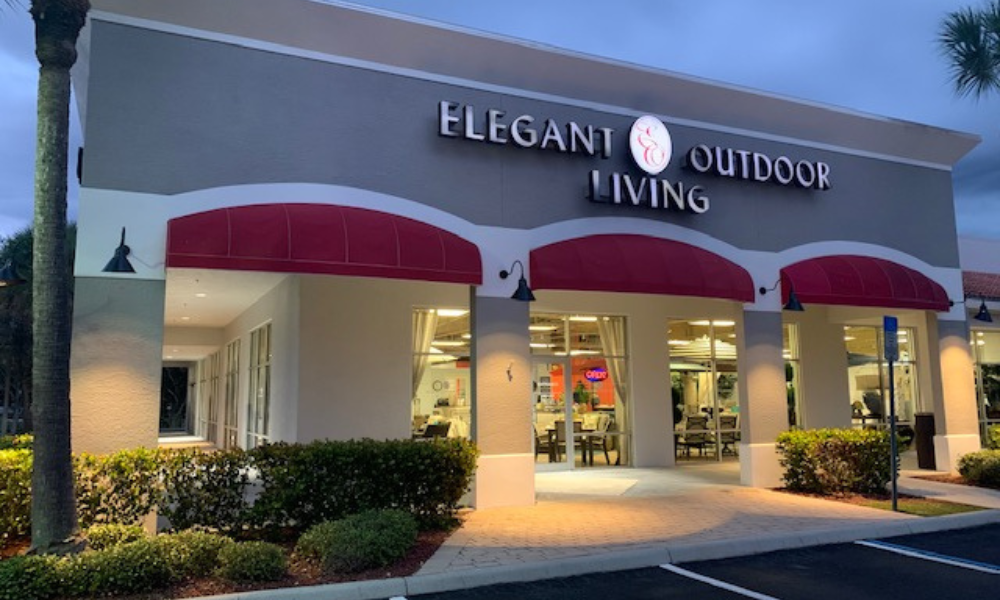 Florida is, as they say, different because while it has a year-round climate suitable for outdoor furnishings, the unrelenting sunlight and the salt air in coastal areas can be still harsh. The Stegmans talked to manufacturers and took other steps to learn what materials best survived the climate, as well as the architectural styles, of the homes in Florida.
Celebrating an award
Elegant Outdoor Living usually has an annual meeting each October to kick off the selling season, and the Stegmans are planning something special to celebrate the award and everyone's hard work.
Stephanie says that this year's award is particularly meaningful since the market will be moving to Atlanta next year.
"Since it was our last market in Chicago, we wanted to go and enjoy the city, see all the retailers, and manufacturers, and celebrate the friendships we have made in the industry and in the city that created the memories," she says. "There is nothing like Chicago. We will definitely miss being in that city every summer."
Stegman says that the store used to buy at the show but the pandemic changed that.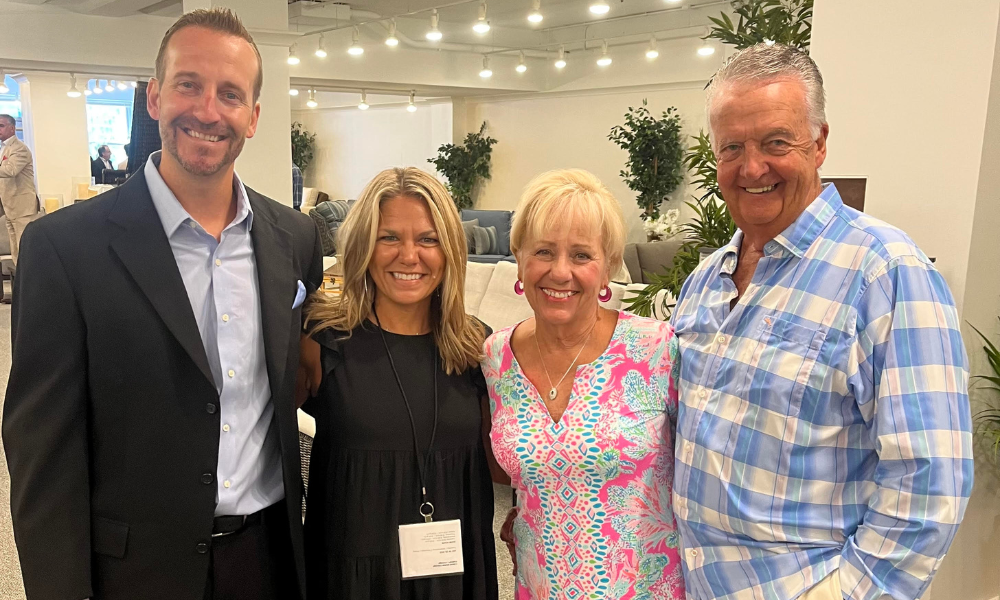 "Since we have to have all our stock orders in around March to arrive by October/November we were finished with all our buying," she explains. "We used to be able to wait and buy at the market in July but for the last three years we have had to change our buying strategies."
Right now, the store is getting ready to receive its first round of new products for the 2022-2023 season while still waiting on orders from our early buys from 2021.
That's because its inventory planning has completely flipped, from a 75 percent custom and 25 percent stock to a 75 percent stock and 25 percent custom order. Stegman said that special orders are starting to trend upward, but the store is still keeping stock on hand for those who need quick deliveries.
"For the past three years, we have seen our business model and consumer buying habits drastically change," she says. "Customers want everything right now and are always asking if items are in stock. No one wants to wait 20- plus weeks. Our business has always catered to showing collections with a small quantity of stock in our warehouse because our clientele wanted to change frames, fabrics, and configurations. Now we are buying products that consumers want right now. Instead of showing several collections from a manufacturer we now show fewer collections but back up those collections. We are buying into the collections we know sell well in our areas.
"We have had a lot of success in balancing out the stock and backing up throughout the year so we are never out. We always have something to replace a spot on the floor. We will see what this year brings but we are ready with stock and look forward to welcoming our customers back to the area."
And what will the future hold in the next year or two?
"Honestly, who knows?" Stephanie says. "The past three years have been questionable for everyone. All we can do is be prepared without having too much or not enough. Knowing our customers and watching our area and market is key. Last year, we knew it would be a huge stock year because of what we saw the previous year and how our customers were purchasing. In the past couple of months, we have seen an uptick in custom orders but the lead times are still delayed so I think stock will be important again through this year.
"Price is also starting to come into play. Last year, no one asked for discounts. They just needed the furniture that was in stock. Now, we are seeing more negotiations on price. We have to listen to our customers and understand what they need. We always have [done that] and I know that is why we have continued to be successful in this market."