Last Friday, on the first day of spring High Point Market, I saw Bob Dylan play to a packed theater of fans in Greensboro.
Unfortunately, he didn't play "The Times They Are A-Changin','" but that song was stuck in my head for the next few days as I walked around and saw the amount of outdoor furniture at the market.
The casual industry knows how much the category has grown over the two years, and it seems two years of a pandemic spurred many others to get into outdoor.
Since Covid hit in 2020, High Point exhibitors including Sunpan, Kravet, Steve Silver, Eichholtz, Bellini Modern Living, and Flexsteel have all released outdoor furniture lines—some more extensive than others. And that's just a shortlist of companies who made announcements about it.
Walking around, it was clear that other companies have gotten into the category quietly and are either testing it on their dealer base, determining their outdoor strategy, or selling it as an afterthought product when people come shopping for indoor.
We also need to remember that a few large companies who got into the category and fell out, like Emerald Home, A.R.T. Furniture, and Klaussner. However, each of those companies had different reasons for taking outdoor out of the equation.
It's very possible that some of the new companies who showed outdoor at market will back out of the category in the future, however, Sunpan is likely not one of them.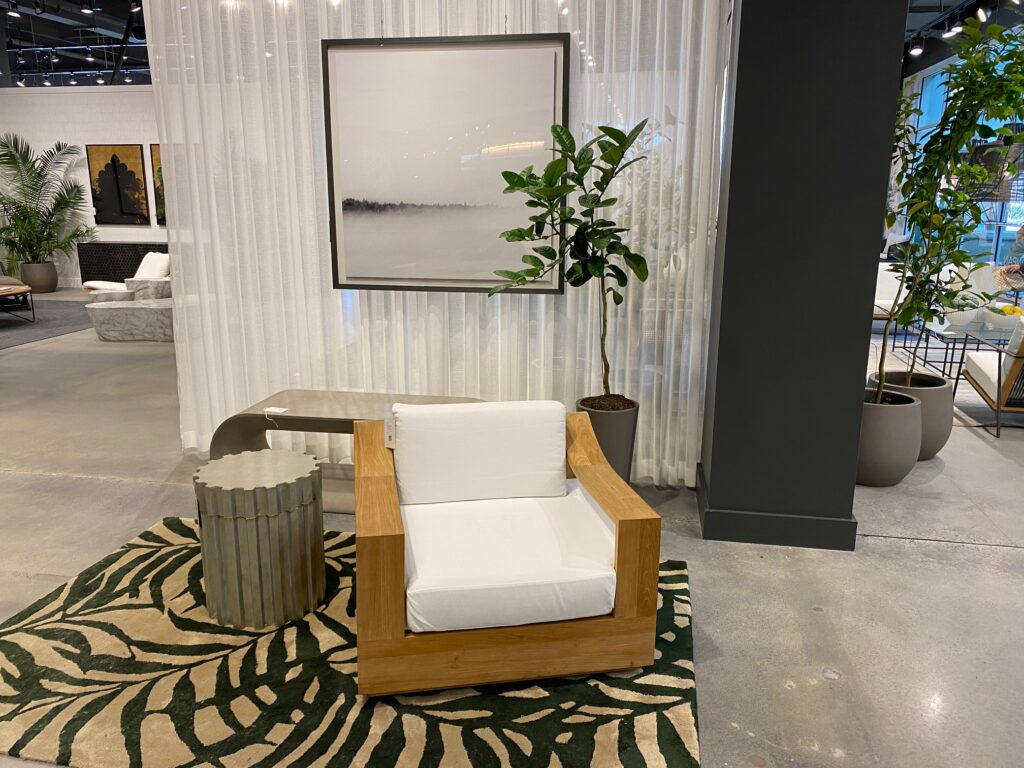 The company launched its outdoor line at the start of the pandemic 2020, and even just a glimpse of their showroom from the main lobby of Showplace shows that they've made a serious commitment to the category.
While it started with chairs occasional tables, it has now expanded the line to include extendable dining tables in both teak and aluminum, chat sets, modular sectionals, and different materials like wicker, antimicrobial cushions, and Sunproof fabrics.
Original pieces in the line were produced in Vietnam, and the company has taken manufacturing to Indonesia as the collection grows.
Eichholtz is another brand that recently entered the outdoor category in a big way with a few dining and chat set pieces that Marketing Director Alyssa Abrams says helps the company "sell a lifestyle."
The pieces mirror the company's indoor European styles with generous sizes and sleek, contemporary looks. With Sunbrella fabrics and powder-coated aluminum, pieces have an on-trend indoor-outdoor style.
Abrams said the company is 85% in stock at its Greensboro, N.C. facility, and 100% stocked in the Netherlands.
Kravet also debuted outdoor for the first time this market, and the company's Soleil collection includes sofas, sectionals, swivel chairs, pillows, rugs, and small tables and accessories.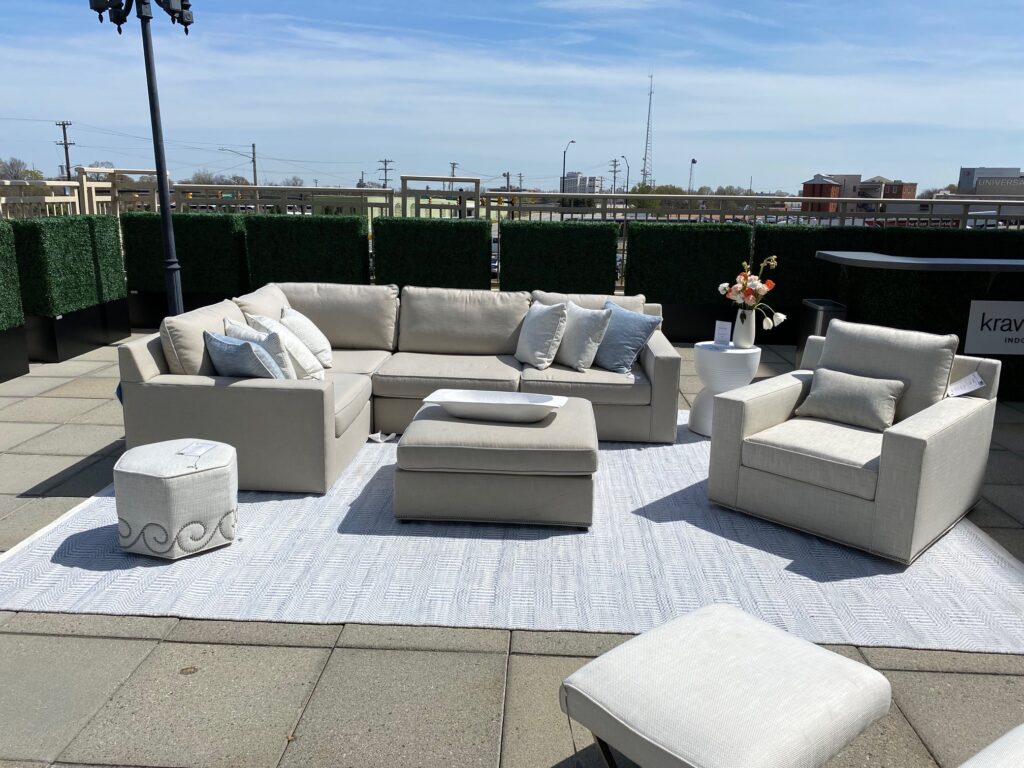 Soleil heavily mimics Kravet's indoor lines, as they're full-upholstered and have chic, decorative features like steel studs. Kravet's Merigold outdoor lounge chair won an IFDA Award this market.
Steve Silver highlighted its outdoor line for the first time this market after successfully debuting it in Las Vegas this past January.
Collections include HDPE all-weather resin wicker, 360-degree welds, solution-dyed acrylic fabrics and quick-dry foam Open Cell cushions that allow for better ventilation and mold resistance.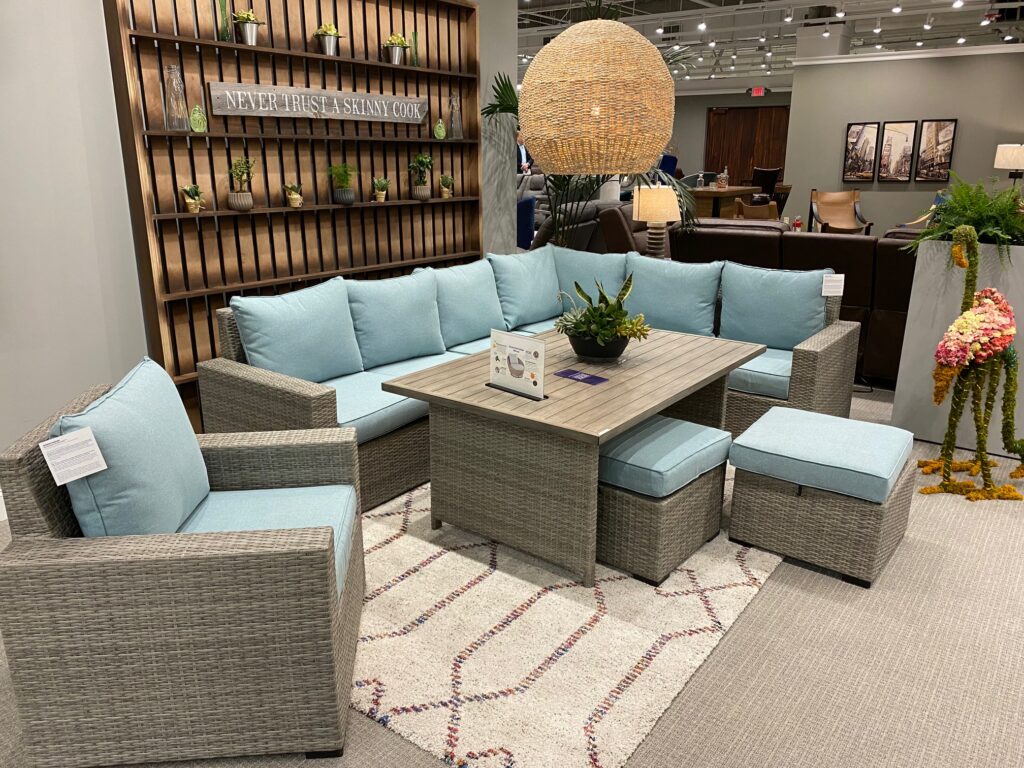 Boyd Barnhardt, director of marketing for the company, said the line has been well-received and they plan to expand the line in the near future.
Overall, nearly every full-line manufacturer we spoke to said they added outdoor to complete their whole-home offering and bring in a new category and lifestyle everyone is asking for.
Casual Classics
There weren't just big changes in the full-line sector this market. Several casual exhibitors had stand-alone showrooms, including Summer Classics, Pelican Reef, and now Plank & Hide—signaling another focus on the outdoor category not previously seen in High Point.
Moving into 300 South Main after acquiring the company and building a month ago, Plank & Hide soft-launched its new space by presenting indoor and outdoor furniture across the 17,000-square-feet showroom. With the acquisition, the company has doubled its selection of products.
With a huge selection of outdoor on the top floors—nearly 100 groups—and a smaller indoor display on the bottom floor, President Chris Probst explained that the new P+H Elements, which is a new brand resulting from the acquisition of 300 South Main, has helped Plank & Hide diversify its product lineup and offer lower price points.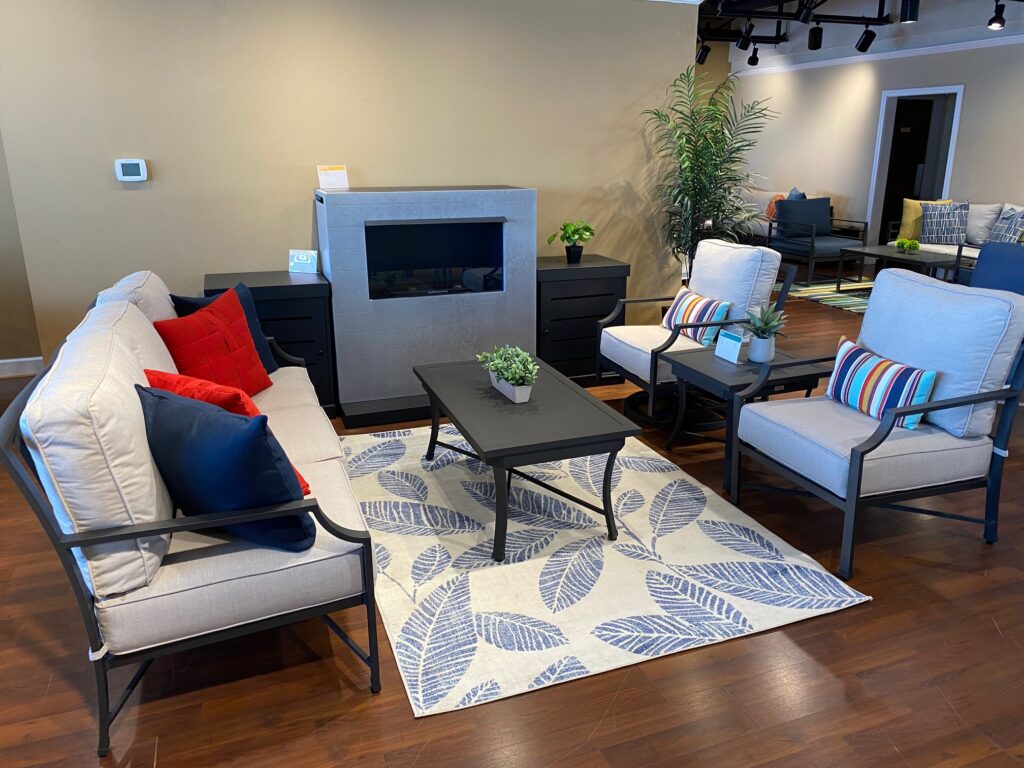 The company plans to grand-open its showroom at the October High Point Market.
Sunset West, which was acquired by Hooker Furniture a few weeks before market, displayed its high-end outdoor furniture in the atrium of Hooker's showroom.
Front-and-center, any customer who walked into Hooker's showroom went through the outdoor section. Wes Stewart, CEO of Sunset West, said the exposure is tremendous and that many of the customers who come in are seeing mixed and matched pieces for the first time.
"There's a built-in customer base here, and because Hooker has showrooms for each of its specialties—Bradington Young and Sam Moore for upholstery, Hooker for case goods, etc.—it made sense to bring in outdoor," Stewart said.
As Andy Sokol, Ashley Outdoor's Vice President of Merchandising said, the company likes to keep things fresh, which is why it brought 10 brand-new collections to High Point Market.
From sofas and chat sets to dining tables and fire pits, the new collections have a more contemporary style. And as always, Sokol said its all about the value.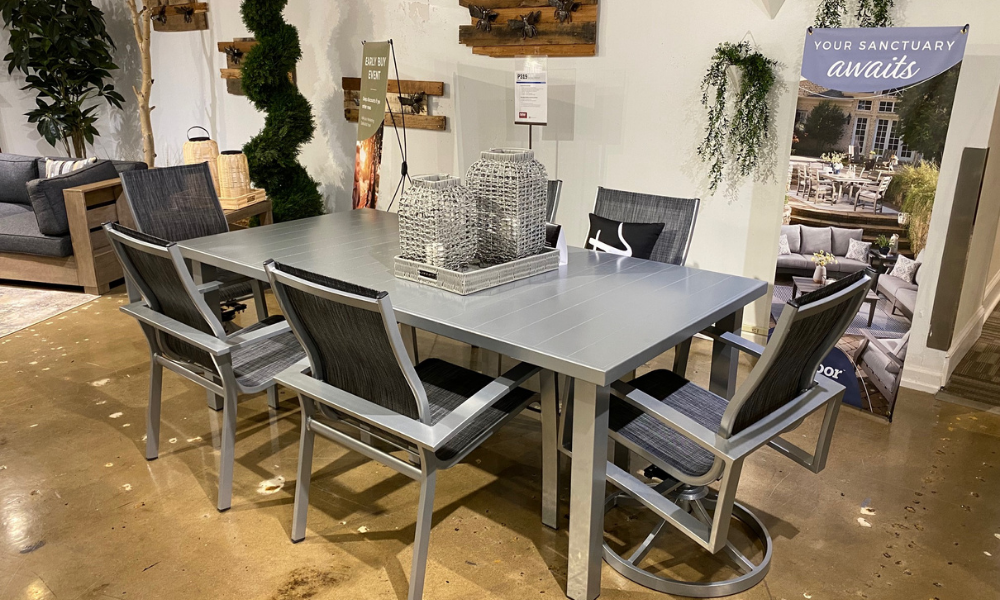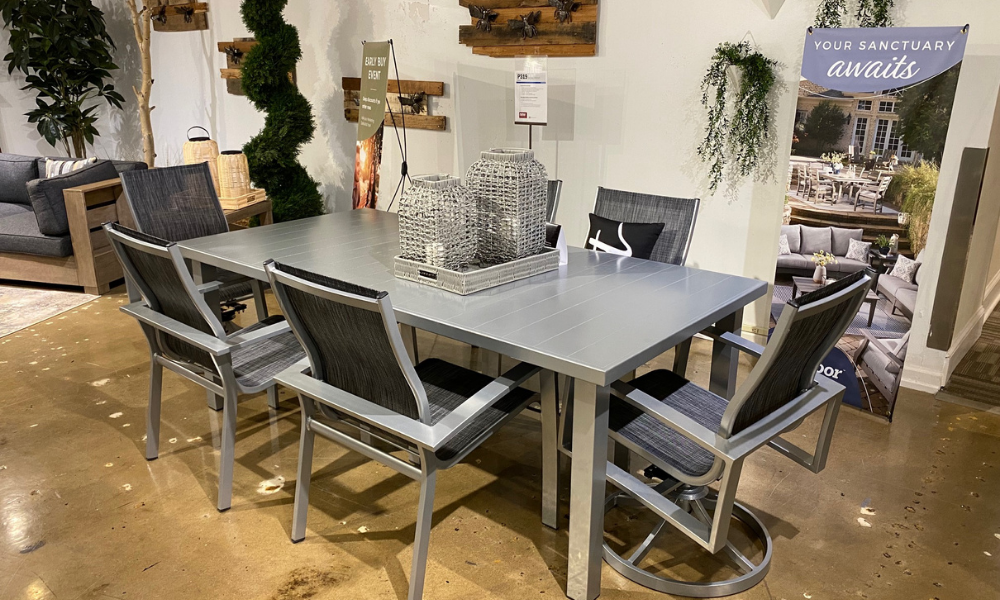 "You don't see furniture like this for this value anywhere else," he said. "It's all been received very well, and as long as customers see the value, they get excited.
The company is also back into the sling category after holding off for two years, was touting its MegaTuff poly material, and has introduced several dining sets to complement existing chat set collections.
Jensen brought its elegant Sorrento teak collection, as well as its signature Ipe collections this market, and Vice President Eric Parsons said the company has doubled in size over the last two years.
With Schon Duke now at the head of the company, Jensen has a bold plan to release new products every 60 days. Duke says this is part of the company's plan to become a "fashion house and do more, differently."
This is a year of change for the casual industry, and it's not likely to slow down anytime soon—which reminds me of something Bew White of Summer Classics said that our industry is starting to realize: You can't grow if you're not changing and getting creative.